About Us
ould you like to hear a good story? We've got a great one to tell you, but only if you'll take your hand off that mouse and pay close attention. Go ahead, you can do it.
To begin with, we should tell you that GoodCharacter.com is a project of our company, Live Wire Media / Elkind+Sweet Communications, Inc.  The company was born in 1987, when we created and produced a PBS TV series called "The Power of Choice." It started out simply to be a one-hour TV special for teens about making good choices. But then, as in any good story, it changed. It changed because a lot of people saw our TV special and liked it. Loved it, actually, and they wanted more. So, with generous funding from Nestle Foods, and the PBS programming muscle of WNET-Thirteen, New York, we embarked on a marvelous adventure that resulted in a 12-part television series that changed our lives, and, we are told, the lives of a good many high school kids, as well.
It all began when we teamed up with a very unusual character named Michael Pritchard—a standup comic who also happened to be a juvenile probation officer with a gift for communicating with young people through heart and humor. We took Mike on a tour of 27 high schools throughout the U.S., where he thrilled his audiences with insightful comedy about growing up and led groups of students in exciting brainstorming sessions about challenging issues that affect their lives. Issues like communicating with parents, coping with pressures, and sorting out their values. The cameras rolled as they talked, they laughed, they argued, they cried, and they learned a lot—mostly from each other. The result was this scintillating TV series which teaches young people that "In life, you can make good choices, or you can make rotten choices, but you will always have the power of choice."
When the series debuted on PBS in 1988, the response was overwhelming. Not only did it get rave reviews and lots of awards, but we also received an avalanche of orders for video copies from schools, libraries, youth groups, health organizations, police departments, etc. throughout the U.S. and Canada (we still get orders for it). It also triggered a demand for more programs on similar kinds of issues for middle and elementary school children. Suddenly we found ourselves in the business of creating, producing, and distributing youth guidance videos and television.
It would be difficult to overstate how rewarding this all has been. Our aim and mission has always been to create entertaining media that touches the heart and informs the mind. Media that inspires and challenges. In fact, everything we've produced since this enterprise began has been aimed at empowering young people to make positive, healthful choices in life. And it truly has been a productive journey. Following The Power of Choice, we produced two more series with Pritchard for middle school and elementary school, and then we partnered with CharacterCounts! to produce a collection of videos for K-12 focusing on The Six Pillars of Character. Also, we publish an ethics curriculum for the Ethics Resource Center, in Washington D.C. And there's more. You can see these and a lot of other terrific materials by visiting our store, LiveWireMedia.com.
As you know, when a school buys a video for classroom use, they expect it to come with a guide to help the teacher use it effectively. So, we wrote teaching guides for all the programs in the series, providing discussion questions, writing assignments, and group activities. We apparently did a good job, too, because the guides were often applauded in reviews for the programs, and teachers constantly borrow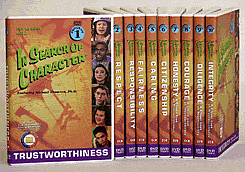 ed (stole) them from our exhibit booth at educational conferences even if they didn't have the videos to go with them. What we discovered was that, while the guides were written specifically for our videos, they are easily adaptable by teachers for use in making their own lesson plans. And since they were so popular, we decided to do folks a favor and post them on the internet where they would be readily available to anybody who wanted them.
And that is how GoodCharacter.com came into being. It was conceived as a place where people could access our teaching guides on line and use them for their own purposes (subject to our terms of use, of course). Not a big deal. But as this website grew in popularity, it also grew in scope and substance. We just couldn't resist the impulse to keep on adding more and more content to it. When you look at the menu bar, you see a plethora of resources for organizing and implementing character education in your school or organization. And, of course, as we continued to produce more videos, we added more teaching guides. Which is how GoodCharacter.com has become what it is today—a great place for educators to find support, resources, information, and ideas to launch or enhance their character education and youth guidance efforts.
Well, that's our story, at least so far. We're truly flattered that you read all this, and we hope you found what you were looking for when you clicked on this link. If you have any questions, we welcome your email or phone calls. Meanwhile, you may now reclaim your mouse and use it to explore the rest of this website. We think you'll find it well worth your while.
Happy exploring,
BTW – did we mention that you can buy our videos from our store at www.livewiremedia.com ?
David Elkind is a graduate of the University of Wisconsin with a B.A. in Communications. After college, he spent several years in New York, where he was a teaching assistant in film production at NYU. In 1972 he moved to California and founded the Berkeley Film Institute, a film school which he directed for five years. Before co-founding Live Wire Media, he was an independent producer of medical films, and documentaries. David and his wife Elaine have a twenty year old son.
Freddy Sweet, Ph.D. is a graduate of the London Film School and holds a doctorate in Comparative Literature from the University of Michigan. He has taught all ages of students, from elementary, through high school, university, and adult education. In the seventies he was an Assistant Professor of Comparative Literature at the University of California at Berkeley. In Hollywood he produced Kevin Costner's first feature film, "Stacy's Knights." Freddy and his wife Lin have two daughters.